Kiwi Education has a partnership with the best nature experience.
See below how you can benefit from this partnership!


 Southern Discoveries is a premium tourism company dedicated to sharing some of New Zealand's most iconic scenery and extraordinary experiences with the world.
About the Company
The company offers cruise experiences in Milford Sound and Queenstown, and seamless coach and flight connections between the two destinations. They also specialise in private charters and conference and incentive packages.
Southern Discoveries is the original Milford Sound operator and provides the widest range of excursions in the fiord. The company has four vessels in Milford Sound ranging in capacity from 50 to 400 passengers and operates the Milford Sound Underwater Observatory.
Southern Discoveries operates two vessels on Lake Wakatipu in Queenstown. Spirit of Queenstown Scenic Cruise departs twice daily from Friday through to Monday. The cruise offers a delicious wine & cheese upgrade which includes local artisan cheeses and Central Otago wine. Spirit of Queenstown has recently undergone a beautiful refurbishment and now features a full bar and café for customers to enjoy.
The company is Qualmark Gold endorsed and maintains an ongoing commitment to conservation through sponsorship of the Sinbad Sanctuary Project in partnership with Department of Conservation and Fiordland Conservation Trust.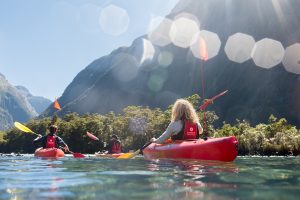 Tour options
Milford Sound (from $67.15)
The southern hemisphere's most spectacular fiord environment. Learn more information, things to do and tips on their website.
Milford Sound Coach & Nature Cruise Day Trip from Queenstown;
Milford Sound Coach & Nature Cruise Day Trip from Te Anau;
Milford Sound Nature Cruises;
Milford Sound Discover More Cruises (includes our 2-hour Nature Cruise, access to our Milford Sound Underwater Observatory & Picnic Lunch).
One important thing to know is that some of the best days in Milford Sound are the wettest. The rainfall can reach up to 250mm in 24 hours and turn on dozens of waterfalls which cascade down the sheer mountainsides into the fiord. Check out today's weather on our Milford Sound webcam. All you need to enjoy Milford Sound on a rainy day is a good jacket. We share everything you need to know about the weather in Milford Sound, what to wear and the best time of year to visit. Learn more about Milford Sound weather.
Queenstown (from $35.00)
See, explore and discover Queenstown – a town like no other. Learn more information, things to do and tips on their website.
Spirit of Queenstown Scenic Cruise;
Spirit of Queenstown Wine & Cheese Cruise.
Queenstown is a New Zealand must-do. Long considered the country's epicentre of adventure, is also offers plenty of opportunities for rest and rejuvenation amongst nature. Nestled between the deep waters of Lake Wakatipu and the mighty peaks of the Southern Alps, Queenstown's rich beauty is matched only by its rich history.
Contact us right now and request your discount coupon!
How partnership works
 Once the booking is created, there's a section in the Cart where your customers can enter this code for their 20% discount. Do not miss this opportunity!